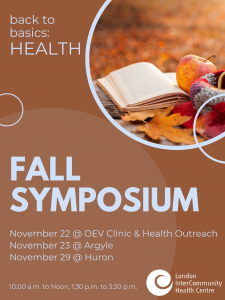 Our Fall Symposium "back to basics: HEALTH" is right around the corner. If you are unfamiliar with this initiative, the Symposium offers an opportunity for Health Centre clients (and staff) to consider healthy basics in their everyday living. Whether it be mental health exercises or healthy aging for diabetic patients to maintaining a healthy brain or tips and skills for financial empowerment, or just a chance to drop in for the flu shot, the Symposium has something for everyone.
Dates and locations are:
November 22 @ OEV Clinic & Health Outreach
November 23 at Argyle
November 29 at Huron
From 10:00 a.m. to Noon and 1:30 p.m. to 3:30 p.m.
Volunteers will be available to assist clients who wish to complete the Client Experience Survey during that time.  Participants will receive a passport to good health that they can have stamped after speaking with healthcare professionals. There will also be refreshments and prizes.
Themes include (subject to change or adjustment)
Flu Shot Clinic (General Clinic Team)
Health Aging (Diabetes Team)
Mental Health Wheel (Social Workers Team)
Seniors Health Brain (Seniors WrapAround Team)
Financial Empowerment (Community Engagement Team)
Healthy Breathing: COPD & Asthma Care (Respiratory Therapy Team)
Want more information? We've been sharing tip and data from each of our Symposia teams all week. Here is the full set to get you started!